Home organisation, imposter syndrome, being time-wise, using Notion, doing stretches, and making how-to videos… these are a few of our monthly favourites!
| | | |
| --- | --- | --- |
| 🎞️ | The Home Edit | Good Eatings |
| 🎧 | The Imposter Syndrome Club | Portishead |
| 📖 | Timewise | "I Didn't Do the Thing Today" by Madeleine Dore |
| 📱 | Notion | Calm |
| ➿ | Morning stretches | <10minute chores |
| 🎒 | Creating how-to videos | New recipes |
---
🎞️ Watching
Get Organized with The Home Edit (TV show)
This one is right on brand for me: a couple of Marie Kondo-esque home organisers go into people's houses with a mission to sort, tidy and re-organise a particular room (or rooms). Their thing is setting up a sustainable system for categorising and storing things, tailored to the quirks of the people they're helping — like if you're into knitting, there might be a 'knitting zone' for all the related tools, supplies and current projects, or a boxer might have a 'boxing zone' to workout in. You might be a knitting boxer, and that's okay too.
— Jess
Tempted to do a Spring clean? Here's how they suggest you start:
Take everything out of the space you're organizing (and we mean everything)
Create groupings by placing like items together so you can see what you're dealing with
Pare down your belongings, getting rid of anything you no longer use or just don't like
Good Eatings (YouTube channel)
Lately, I've been finding myself wishing for warmer weather and longing for spring. Perhaps it's because we've seen rainfall records broken this winter, and experienced some very cold days. As a result, I've found I've been doing a bit of escapism through YouTube channels.
Good Eatings is a YouTube channel run by Malin, a Swedish creator passionate about delicious and wholesome plant-based vegan food & sustainability. Malin and her partner Rob create beautiful cinematic videos showcasing wholesome recipes and everyday life in Sweden.
I've been enjoying watching the spring/summer recipe videos which cure my travel itch, wish for warmer weather and inspiration for wholesome recipes. You can also check out Malin's blog too. Enjoy!
— Aimee
---
🎧 Listening to
The Imposter Syndrome Club (podcast)
Do you ever feel like an imposter? Alice and Jessamy are a couple of creative legends who also feel like imposters sometimes, and have started this podcast to talk about it! Every episode starts by asking their guest to read their own bio, then takes off in all kinds of interesting directions, like: find out what happens to happy hamsters versus stressed hamsters, remind yourself that availability does not equal free time, or expand your mind (…just how many creative uses are there for a paperclip?).
— Jess
Portishead (Band)
During these slow rainy days, I've been enjoying listening to some nostalgic and comforting artists. I've had Portishead on repeat lately, and this band always encourages me to unwind and relax. I highly recommend lighting a candle, pouring a cup of tea and enjoying Beth's vocals as they soothe you.
— Aimee
---
📖 Reading
Timewise (book)
As usual, I'm only a few chapters in* but too excited not to share: Dr Amantha Imber has written a book! It's called Timewise, and it's the culmination of all the best productivity tips from her podcast, How I Work. (I'm actually listening to this one as an audiobook so it feels a bit like an augmented version of the podcast, with all the juicy learnings grouped by theme which makes my brain very happy).
To give you a taste, there's a chapter called 'Goal-Setting is Broken. This is How to Fix It' which explains that when we set ourselves any goal, we're essentially in a constant state of failure until we reach it. Whereas if we can setup good habits and systems that encourage continuous progress, we can be in a constant state of success instead. Mind. Blown.
— Jess
*Full disclosure: I typically have 5+ books in progress at any time, and they take me ages to get through because I keep hopping between them, or sometimes switching to podcasts, online courses, or reading my backlog of email newsletters / saved articles.
"I Didn't Do the Thing Today" by Madeleine Dore
My best friend gifted me Madeleine's book last Christmas (yes, she knows me too well). I'm about a quarter of the way through, and I am loving it so far. It's no surprise both Jess and I have been reading Madeleine's book and you can read Jess' great recap from last month.
I've been enjoying reassessing my own thought patterns and behaviours while reading. I've been feeling more inspired than I have in the past two years (ahem, yes, sorry for the silence!) and slowly getting back into the swing of things and continuing to deliver content for this wonderful blog of ours.
— Aimee
---
📱 Using
Notion (app)
We first mentioned Notion back in October 2019 (pre-panini!), but in a Producing Paradise first… I'm giving it a repeat mention here because I've really ramped it up this year.
In January, I migrated the bulk of my work to-dos from Trello to Notion.
In February, I migrated the master project database from Airtable to Notion.
In March, I watched most of the Notion Block by Block conference recordings, and these inspired me to setup some new personal databases (like one to capture all my 'Readings and Learnings' across all the different kinds of media I consume), and refine my existing ones.
It's the first app since Trello that has made a remarkable difference to the way I do things both in my home and work life; a truly incredible tool worth learning IMHO (…and hey, maybe I can help you with that?!).
— Jess
Calm (App)
When I had the dreaded C back in January 2022, I couldn't read, watch TV or focus on anything for quite a few weeks (the bain fog was real). The one thing I found I was able to do was a daily 10minute meditation. I'm not sure the logic to that, but it really helped!
Since then I've been hot/cold with daily practice, but it's one of those things that I notice a big change in my mood if I do achieve it. I've found the Calm App really great for beginners, and there are so many options to pick from (I definitely recommend the sleep stories too).
— Aimee
---
➿ Practicing
Morning stretches
Here's an example of a tiny, achievable habit in place of a big, lofty goal:
In the past I might have thought "I want to be able to do the crow pose in yoga" and then set out to practice until I could do it —AKA been in a state of failure until the day I could do the pose. I've setup a habit-based approach instead, whereby I strive to do 60 minutes of stretches every week*. Usually, this is 10 minutes of stretches before work in the morning, but if I skip a day (or two), I can do a 20 minute session and still be 'succeeding'. Sometimes these stretches will include a variation on the crow pose, and other times they won't; I'm guided by my energy and what I feel like on the day.
— Jess
*I use a cool habit tracking spreadsheet to gamify this, but that's a story for another day!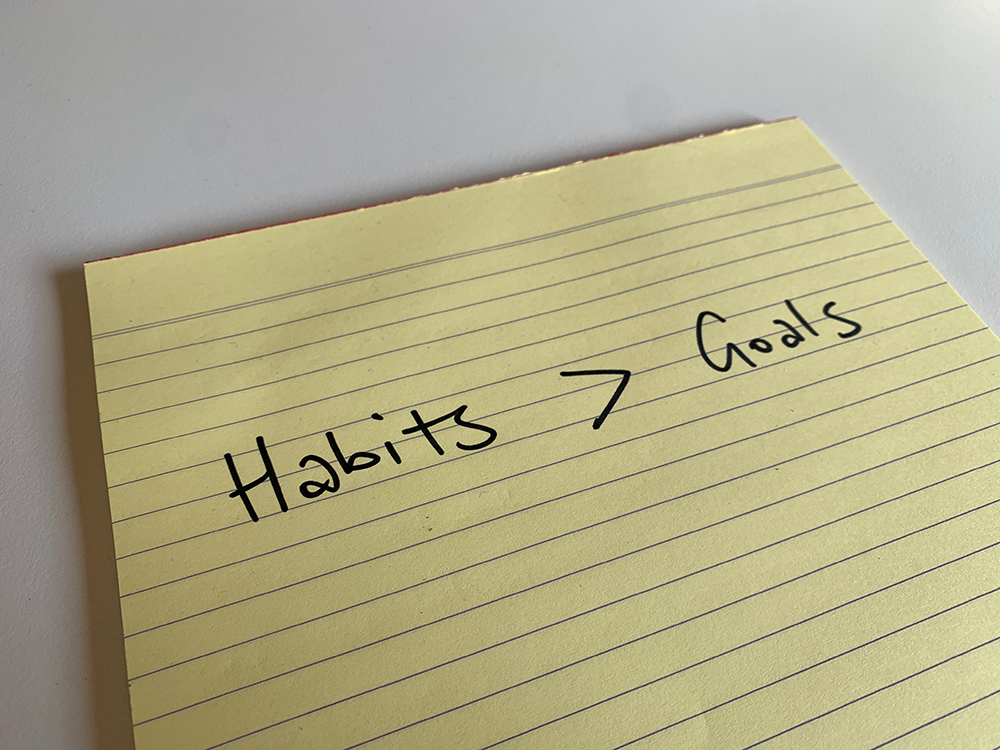 <10minute chores
I read somewhere that if a chore takes less than 10 minutes to complete then you should try to action it while you're in the flow. Some chores I've been focusing on which take less than 10 minutes:
Putting things back where they came from
Tidying the kitchen after dinner
Making the bed
Putting your clean clothes away once they're dry
Dealing with postal mail as soon as you receive it
These might seem trivial to some, but I can guarantee this simple hack is a game changer in not letting things pile up. Also, because I am who I am, I've timed myself doing some of these chores so that when I need a little bit more encouragement I can say to myself "Aimee, it takes you 3 minutes to do this, let's do it." I have to say, waking up to a tidy and sparkly kitchen really does help set your mood for the day✨.
— Aimee
---
🎒 Learning
Creating how-to videos
I recently setup the Producing Paradise YouTube channel (shameless plug!) as an excuse to improve my video content creation skills, and breathe new life into our older blog posts by adding video content to support the text 🍿📺✨
Exhibit A: How we use Trello for to do lists
Exhibit B: How I prepare my personal tax return
I spotted Marques Brownlee's Masterclass optimistically titled 'Make Compelling Videos That Go Viral' and thought I would give it a whirl so I could apply the learnings to each video as I go. Look I don't want to get ahead of myself but the first video already has 186 views so watch out world 🤣
— Jess
New recipes
I love cooking and experimenting in the kitchen. I find cooking to be a stress relief, and I always feel more like myself when I've been making an effort to try new recipes. A new recipe doesn't need to be exhaustive. It could simply just be something I've never cooked myself, a product I've never used or a flavour combo I've not tried. I used to set myself a goal of trying a new recipe each week – but life gets busy. Here are a few recipes I've made lately:
Hope you find some inspiration to experiment and try new things. Bonus tip: listen to Portishead while you cook, and browse Good Eatings YoutTube channel for some inspo. Enjoy!
— Aimee