Gmail offers forwarding to one email at a time by default. Here's how we got around it and set up forwarding to multiple addresses in Gmail, using filters.
---
Producing Paradise is all about peering behind the magic curtain: we're using this blog as a testing ground, and telling you how we make it work. I'm going to explain how we hacked our Gmail setup so we could share the main Producing Paradise email address, without having to log into a new account to check for new mail. Because who has time for that?
A free Gmail address suited us because we're all familiar with the platform, and it means we can login from anywhere, on any device. It's weareproducingparadise@gmail.com BTW, if you want to drop us a line 😉
We also didn't need the email address to match our domain (like 'hello@producingparadise.com'). This is a side hustle after all, and hosted email costs money.
Here's the video overview (3min):
Here's what's covered:
0:13 Example use case for email forwarding
0:30 Open Gmail settings
0:44 Add new forwarding email address
1:22 Disable forwarding, POP and IMAP
1:36 Open Filter settings
1:43 Rationale for 'deliveredto:' filter
2:08 Create the forwarding filter for each email
Forwarding to multiple addresses in Gmail
Let's take you through the steps!
Here's what you'll need to do:
1. Create a Gmail account — the one you want to forward from
2. Log in and click the cog icon to get to the settings page
3. Go to 'Forwarding and POP/IMAP' and click 'Add a forwarding address'
4. Add each of the forwarding addresses here – the ones you want to forward to
5. You'll also need to verify each forwarding address before they can be used, to prove you own them
6. Once verified, go back to the 'Forwarding and POP/IMAP' page and make sure it looks like this:
Noting:
Forwarding is disabled — because we're going to make it work using 'Filters'
POP and IMAP are disabled — because we don't want anything we do in our personal email account to affect the original
7. Finally, go to 'Filters and Blocked Addresses' and click 'Create a new filter'
8. Filters are a way to search through emails, but in this case we want the filter to apply to all emails, so in the "Has the words" field we put "deliveredto:[main email address]" then "Create filter"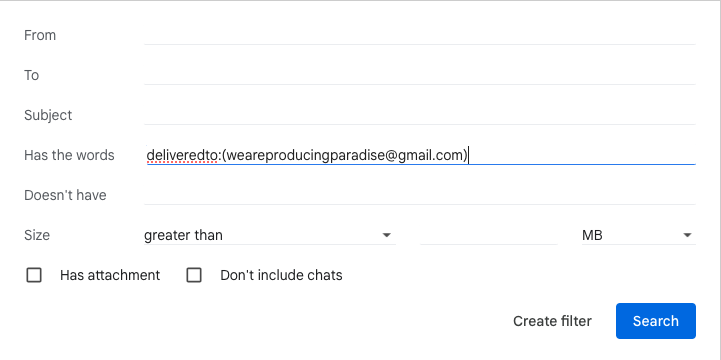 9. After that, you get to choose what happens to all filtered messages, so in this case: "Forward it" to the first forwarding address
10. You'll need to repeat this step and create a new filter for each of the forwarding addresses, until it looks something like this:
Send an email to the original address to make sure it's all doing what it's supposed to.
The forwarded emails act as notifications, which can either be kept as a reminder of an action required (in your @Action folder, if you're that way inclined) or deleted immediately (since they will still exist in the main Producing Paradise email account).
Psst… this post has been updated! The original instructions used the basic 'to:(youremail@gmail.com)' filter but the newer method uses the field 'Has the words' and 'deliveredto:(youremail@gmail.com)' so that it will forward emails that have been received via BCC or CC as well.
And that's it! That's how we setup forwarding to multiple addresses in Gmail
So far, this system is working for us. It took a bit of Googling and some annoying steps (like waiting for each person to verify their email address, since we weren't altogether when setting it up) but now it's in place we all get the Producing Paradise emails sent to our personal accounts so we'll see them without having to log into a separate email account. And it made for another tidy little blog post, in the hope it may be helpful to someone in the future (…you, perhaps?).
Hold on, what about replying?
When one of these forwarded emails lands in our personal inbox and we need to reply, we tend to either:
a) Reply from our own email address, and BCC weareproducingparadise@gmail.com so everyone can see that it's been dealt with; OR
b) Login to the dedicated Google account for weareproducingparadise@gmail.com, and reply from there (e.g. if we want to keep our personal email address private).
It depends on what it's about / who we're responding to.
Pro tip: If you don't want to get logged out of your personal Google account, most browsers offer a Private browsing option (e.g. in Chrome go to File > New Incognito Window) which can be used if you need to quickly login to another account.
Another option: Set up the forwarding email as one you can "Send mail as" in the Gmail settings page of your personal email account (under Accounts and Import; and choose 'Reply from the same address the message was sent to'). This will avoid having to log in and out of the shared account, and keep your personal email address private after you've setup forwarding to multiple addresses in Gmail. Nifty!
Pro-tips on email management
If these instructions were helpful, you might also be interested in:
…and check out the Producing Paradise YouTube channel for many other quick pro-tips!