I'll show you how to setup a personal dashboard in Notion from scratch, including filtered views and timelines. If you're new to Notion, I hope this helps you get setup too!
---
Create your first Notion dashboard
In this video (9min), I show you how to setup your Notion dashboard for the first time, including filtered views of your task boards so you're only seeing your own stuff.
Here's what's covered:
00:38 Add a new page
01:09 Add a cover image
01:30 Add a 'linked view' of a database (or create a new one)
02:10 Setup 'gallery' view
02:30 Filter tasks by assigned to me, due on or before today
03:20 Add a linked view of another database
03:50 Filter by task owner and status
04:30 Setup three columns
06:00 Add a quick to-do list
06:44 Add a divider
07:00 Add a timeline view — this one requires tasks to have a date field
🐁 This video doesn't go through the database setup process, but you can get an idea of how to do this over here: How to setup Notion for book content management.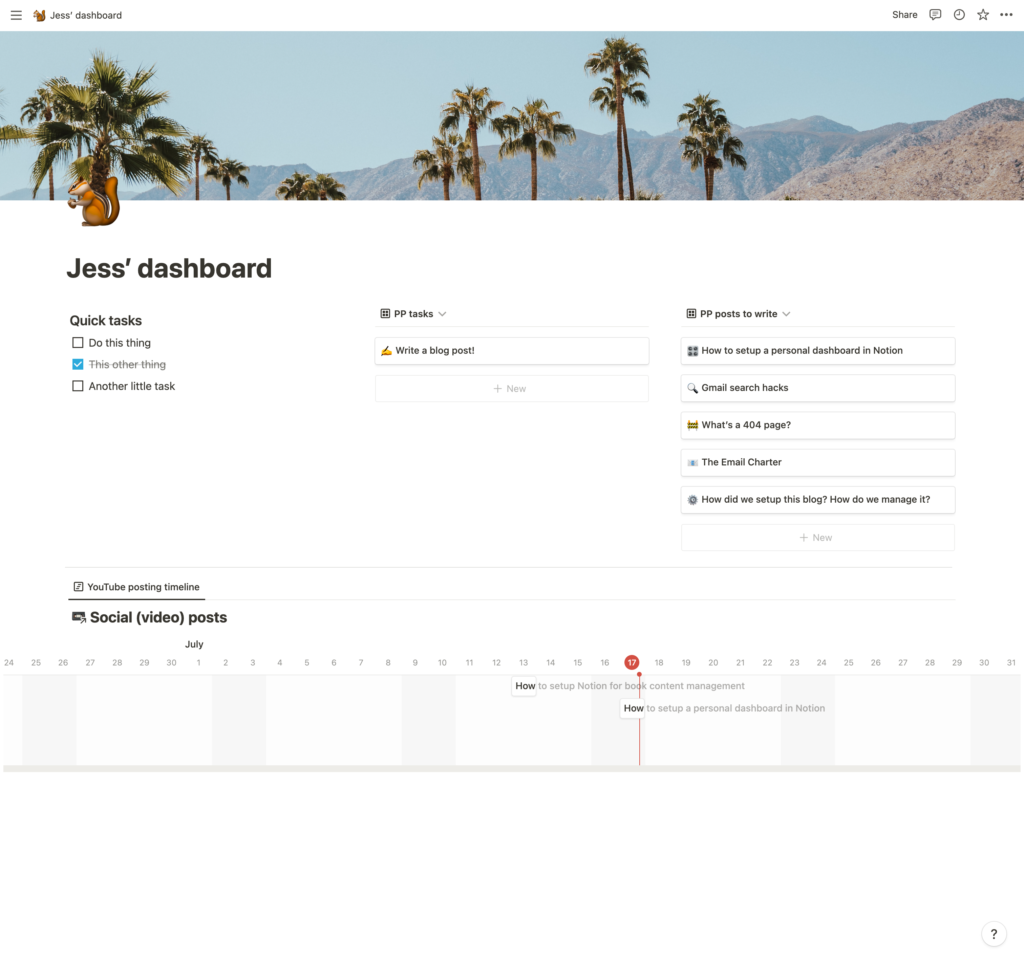 Refine your Notion dashboard
In this second video (7min), I've got some tips for refining your dashboard, including how to setup quick-views to flick between your list of tasks and a timeline.
Here's what's covered:
00:54 Add a new quick-select timeline view
01:25 Filter by task status
01:44 Quickly switch between gallery and timeline views
02:10 Task triage and adjusting dates
04:00 Add a task to a timeline
04:45 Add another quick-select timeline view
05:25 Hide database title
05:30 Hide text table from the timeline

Psst. Our new YouTube channel is alive and we'd love a couple of subscribers, if you're interested in this sort of thing!